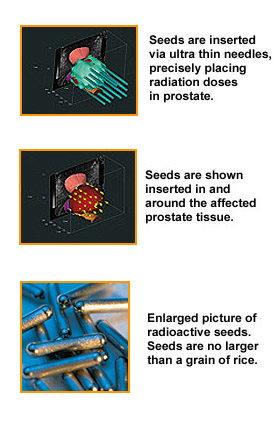 UroTech is devoted to keeping pace with the growing need for better and more widespread brachytherapy services. Like UroTech's thermotherapy and lithotripsy services, UroTech delivers top of the line equipment and expertise to facilities seeking to improve their services for prostate cancer. We work hand in hand with radiation oncologists, physicists, and urologists to develop Centers of Excellence for brachytherapy.
Brachytherapy: Localized Control in Prostate Cancer
The increased use of the PSA test has led to the diagnosis of cancer in many younger men who are more likely to have localized prostate cancer. In determining the best treatment for localized prostate cancer, brachytherapy has been found to be quite beneficial. The advanced imaging capabilities now used in brachytherapy allow seed implantation with better outcomes. The results of five-year studies have shown clinical success rates similar to surgery. Ten-year data show radical prostatectomy as slightly superior to brachytherapy.
Customized Brachytherapy Programs
UroTech consults with facilities to determine the proper array of equipment and menu of services needed at each facility. We can provide a full turn-key solution or efficiently manage a facility's radioactive seed purchasing. UroTech can deliver any level of service that fits within a facility's strategy for high-level brachytherapy service.
A sample of what UroTech can put in place at your facility:
State-of-the-art brachytherapy technology
(hardware and software)


Assistance with training and proctoring



On or off site treatment planning



On site assistance from an Applications Specialist



Seed management



All procedure incidentals such as the well chamber, Mick applicator, seed loading devices, etc.


A Partnership with UroTech Makes Sense
UroTech can simplify your brachytherapy services. A partnership with UroTech offers your facility:

Experience



Speed of program implementation



No capital outlay for the latest technology



Limited or no liability for unused seeds



Immediate access to technical assistance



Reimbursement education and updates



Marketing resources


UroTech provides what you need when you need it, with experience and professionalism.

---

About UroTech | BPH Treatments | Prostate Cancer Treatments |
Kidney Stone Treatments | Urology Resources | Contact Us | Return Home
2003 © Copyright UroTech - All rights reserved