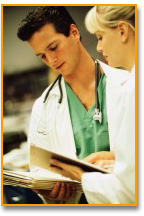 Created by urologists for urologists, UroTech is the best way to use advanced medical technology:
Avoid significant capital expenditures: Purchasing just one of the advanced technologies now available - much less the five offered by UroTech - would require a significant capital expenditure. UroTech allows facilities and physicians to purchase technology services on a per-case basis.


Access the latest technology: UroTech is continually evaluating new technologies as they become available.


Bypass long learning curves on new equipment: Highly skilled technologists from UroTech are on hand to assist physicians and facilities in the use of our technology.


Effectively manage reimbursement issues: Because UroTech is a provider service organization, we have a clear understanding of reimbursement changes that continue to affect the economics of healthcare providers. As part of our service, we offer reimbursement training and initiatives to help assure prompt and fair payment.


Differentiate your practice or facility: Being able to provide patients with new, proven technology establishes a medical practice or medical facility as a healthcare leader - enhancing its reputation amongst patients and within the referring medical community.


Choose from among a variety of business models: UroTech organizes its business models to address local needs and business environments. Options include direct lease programs, turnkey equipment/support programs and syndicated partnerships.
Services Provided
A trained medical specialist and mobilized state-of-the-art equipment


Training & proctoring of physicians and their staff


Reimbursement training & initiatives


Centralized purchasing of procedure disposables


Marketing


Patient education materials



---

About UroTech | BPH Treatments | Prostate Cancer Treatments |
Kidney Stone Treatments | Urology Resources | Contact Us | Return Home
2003 © Copyright UroTech - All rights reserved